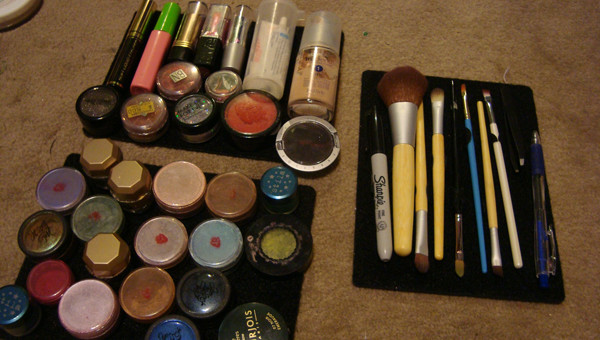 THE ORGANIZED DANCER pt 2
These are pictures of what the Beauty Butler can do for you!
This—this!—is the way my make-up bag looked.   Crammed and filthy.  Just so you can get a better idea, I dumped it all out.  (Yes, most make-up bags are part Tardis!)
The Beauty Butler© is two parts:  an organizer board and sticky velcro dots that you apply to your make-up, brushes, etc.  And they certainly give you plenty of dots!  I have quite a few left over so when I use up a product like my foundation, I won't have to worry about buying more sticky dots.
I have to say that I got super excited to see my brushes organized, rather falling out of the brush roll I had been using.
And I tried to organize the boards into brushes, staples that I always have in my bag (foundation, lipsticks, glitters, black shadow for liner, container that holds pastie tape and eyelash glue, etc.) and one of just eye shadows.  Normally, I only bring the eye shadow colors I use for a gig (I don't feel the need to bring it all with me).  There were certain things I kept off the boards, simply because I always keep my pliers in the back pocket, etc.  And when as a dancer you need something like pliers, you probably are already in a panic situation, so I decided to go with the muscle memory of what I keep in my bag and where.
See more of the review on: Penny Starr, Jr.'s blog
Comments are closed.