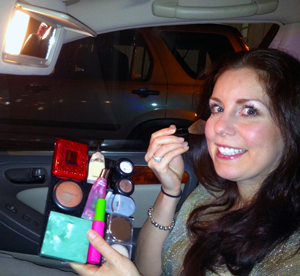 As a woman in today's world, we all want to look our best and feel "all put together" when heading into the public.
This means makeup. And, as we all know, along with wearing makeup comes the need for occasional touch-ups.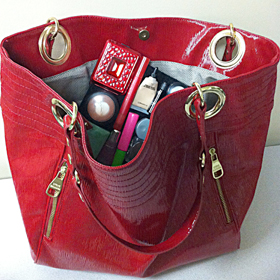 Touch-ups on-the-go can be dreadful; searching through bags to try and find that elusive eyeliner, or opening your purse to find cracked eye shadow and colored powder is all over everything. Nevermore! Beauty Butler is here to solve all of those problems and many more.
Beauty Butler provides a safe, secure place for all of your makeup. Conveniently store any brand, type or shape of makeup on a ready to use portable makeup station.
And the best part is, you don't need a vanity or counter space to use it! Easily carry Beauty Butler in your handbag and have your own traveling makeup station with you everywhere!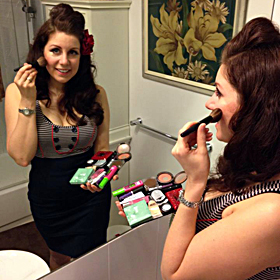 Simply slide the Beauty Butler out of your purse, and you are already holding everything you need, ready to use, with nothing more to search for, and nothing falling out of your hands. No more grimy, dirty makeup bag, no more digging.
Who needs a vanity when you have this handy accessory! Beauty Butler is perfect for using makeup at events, or when you are rushing between errands, a quick touch-up wherever you are.
Click here to see pictures of Beauty Butler keeping makeup organized in all the places you might feel the need to touch up.
Watch the video below to see Danielle, creator of Beauty Butler, demonstrate how easy it is to apply makeup while riding in the car. The next time you're using makeup on the go, instead of wishing you had a Beauty Butler, get yours now by clicking here: Click here to get your own traveling makeup station.
Let Beauty Butler be your saving grace. Click here to get your own Beauty Butler.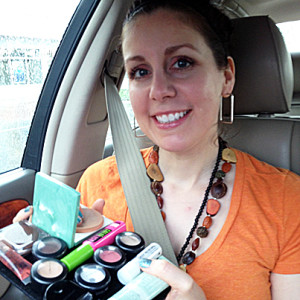 Like many of you, I am a busy woman, always on the go. Between errands, work, visiting with friends, attending special events for Beauty Butler…you get the point, I feel like I am always running from place to place.
I spend a LOT of time in the car, airport, train and taxi. Given the quick pace of life these days, I am so thankful to be on the move with my Beauty Butler.
Like you, I need to save time where possible and that means using makeup while in transit. Working from a makeup bag, I was always digging to find my cosmetics. Sometimes I would drop my makeup having it roll under a seat, or drop it into a crack where I couldn't reach it.
It can be worse when using public transport. One time I dropped my eyeliner, and it rolled a couple seats up to where the person was not the most understanding. I was so embarrassed to wake him from his slumber!
This was before I started using Beauty Butler to manage my makeup. Watch this 7 second video that shows me using Beauty Butler for a quick makeup touch up in the car!
We all have been there trying to balance makeup on our laps in the car or the small table on an airplane, always creating a makeshift makeup counter for an on the go touch-up or full on makeup session.
Not anymore. With my trusty Beauty Butler tucked in my purse, I can perform on-the-go touch-ups with ease, and trust that my makeup is organized and ready to use when I pull it out and put it away.
The wonderful Beauty Butler will save you time and help you look your best while on the go. It is the best makeup tip for using your makeup while on the go.
You can get the gift of stress-free beauty starting at $7, but it's FREE when you don't drop a piece or two of makeup under a seat never to be seen again. Get yours today at www.getbeautybutler.com/shop/.
Want to learn more? Watch this video and see me, the creator of Beauty Butler describe Beauty Butler in detail from my car…while it is moving! Be sure to catch the bloopers at the end :).
Buy Now