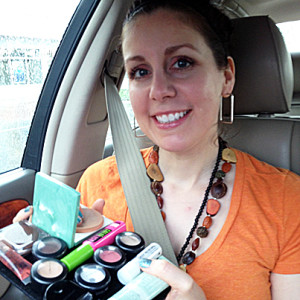 Like many of you, I am a busy woman, always on the go. Between errands, work, visiting with friends, attending special events for Beauty Butler…you get the point, I feel like I am always running from place to place.
I spend a LOT of time in the car, airport, train and taxi. Given the quick pace of life these days, I am so thankful to be on the move with my Beauty Butler.
Like you, I need to save time where possible and that means using makeup while in transit. Working from a makeup bag, I was always digging to find my cosmetics. Sometimes I would drop my makeup having it roll under a seat, or drop it into a crack where I couldn't reach it.
It can be worse when using public transport. One time I dropped my eyeliner, and it rolled a couple seats up to where the person was not the most understanding. I was so embarrassed to wake him from his slumber!
This was before I started using Beauty Butler to manage my makeup. Watch this 7 second video that shows me using Beauty Butler for a quick makeup touch up in the car!
We all have been there trying to balance makeup on our laps in the car or the small table on an airplane, always creating a makeshift makeup counter for an on the go touch-up or full on makeup session.
Not anymore. With my trusty Beauty Butler tucked in my purse, I can perform on-the-go touch-ups with ease, and trust that my makeup is organized and ready to use when I pull it out and put it away.
The wonderful Beauty Butler will save you time and help you look your best while on the go. It is the best makeup tip for using your makeup while on the go.
You can get the gift of stress-free beauty starting at $7, but it's FREE when you don't drop a piece or two of makeup under a seat never to be seen again. Get yours today at www.getbeautybutler.com/shop/.
Want to learn more? Watch this video and see me, the creator of Beauty Butler describe Beauty Butler in detail from my car…while it is moving! Be sure to catch the bloopers at the end :).
Buy Now
Gregory Czymbor, co-founder of Beauty Butler, compiled this list of common problems after hearing the same stories repeatedly from many makeup users.
 You are embarrassed of your makeup bag. Let's face it, when you look inside your bag, it's a bunch of makeup inside a dirty, dusty, grimy bag. GROSS!
Every time you dig through drawers, bags and purses, makeup tumbles, eventually ruining your makeup. This costs you a lot of money.
Tops loosen and sometimes fall off causing a mess in your purse, drawer or makeup bag! Ruined bag, wasted makeup, total frustration.
Have you heard "out of sight, out of mind?" When you cannot see your makeup, you don't use it. You forget about your beautiful colors and products and don't use them.
Dirty Hands – Storing makeup loose causes makeup dust to get everywhere. Reach into your purse and your hands come out dirty, everyone hates that!
Dirty makeup – Makeup doesn't look as good when it's grimy and covered in makeup dust.
Misplaced Makeup – have you ever tried finding your makeup in the drawer only to realize it is in your purse? Be honest, it happens more than you care to admit.
Makeup clutter– Piles of makeup look bad in drawers, on vanities, dressers and makeup counters.
Packing is a pain – trying to find your makeup when rushing out the door for the day or for a weeks' vacation stinks. It's worse when you leave your favorite powder behind in a hotel room because you didn't see it was missing.
Leave makeup behind – what happens when you're going to an important date or meeting and you left your favorite lipstick in the "other" purse?
Finding Your Makeup is difficult, it seems worse when you're running late, getting ready in your car or wanting that last minute touch up. You waste time digging. – Would you just throw your clean clothes into a big box and dig for them every time you need something, Ummm no! Trying to find anything would be a total waste of time. Do you throw your makeup into a pile inside a bag or drawer then dig for it each time you use it? Think about this, spending 1 minute a day looking for makeup wastes 6 hours per year!
You eliminate these situations when you use Beauty Butler. Watch this video and learn how:

Minimize your makeup stress, revolutionize your beauty routine with Beauty Butler. Prices start at $7, click here: Revolutionize My Beauty Routine

Feel Good • Look Great • Be Happy